Direct Mail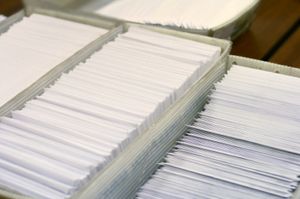 With so many ways to market your business, why choose direct mail? Because it works!!
According to the Direct Marketing Association (DMA) Response Rate Report, direct mail outperforms all digital channels combined by nearly 600%, and marketers are embracing direct mail to achieve more relevant, personalized communications.
Creative Characters Print & Web Solutions provides full-service direct mail. We mail everything from postcards, brochures and invitations to annual appeal letters and catalogs. We can handle your direct mail piece from concept to post office drop off.
We understand USPS regulations and ensure your mail piece meets their guidelines so your mail will go out quickly. We match your mailing list to the National Change of Address database and update the addresses to ensure your mail is not returned. The National Change of Address database compiles addresses of those who have registered for change of address forwarding service with the USPS. We also run your mailing list through the Coding Accuracy Support System and Delivery Point Validation databases to remove any addresses identified as undeliverable, ensuring that your mailing list contains high quality, deliverable addresses, thus saving you money on postage.
We can take your direct mail to the next level with Mail with a Twist -- our new, super charged direct mail add on service that combines your direct mail piece with social media, online ads, mail tracking, and much more to make your direct mail campaign even more successful. Let us show you how incredible the results can be with direct mail! Call 215-923-2679 and ask for Marya or Brigid.
We Look Forward to Working With You!