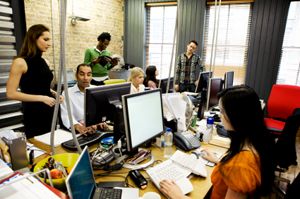 At Creative Characters, we know that great design can impact your business and influence your customers. That's why we're dedicated to providing the highest quality graphic design services in Philadelphia.
Our award-winning graphic designers use immaculate typography and stunning imagery to tell your story, evoke feeling and reveal your business personality. Whether we're crafting a direct mail or marketing campaign or designing a logo, we've made it our mission to exceed your expectations.
When you work with our graphic design team, you can rest assured knowing that:
We listen. Graphic design is a collaborative process, and we love getting input from our clients.
We walk in your shoes. On each and every project, we think about what's effective for you. Then, we bend, twist and turn the aesthetic until your design is perfect.
We're fearless. When it comes to graphic design, we love to push the limits of what's possible.
We're passionate. We love what we do, and it shows.
Our creative juices are constantly flowing. And, we're always inspired. 
Ready to get started? Call us at (215) 923-2679 or email info@creativecharacters.com.