Our Staff
Phil Gross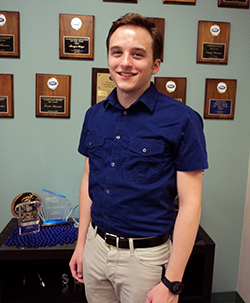 Phil has experience with print, web, audio and video media. He studied Graphic Design at Drexel University's Westphal College of Media Arts and Design. Philip's design experiences range from textbook design for McGraw-Hill Publishing to vehicle wrap graphics for Fleisher Art Memorial's ColorWheels, a mobile art studio that brings art to neighborhoods in South Philadelphia. He is a creator at heart and enjoys the creative process.
Phil lives in Gloucester City, NJ. A little known fact about Phil is that he is one of a triplet. He has a triplet brother and a triplet sister. We are especially proud to say that Philip is a true Philadelphia; he marches with the 2st Stompers New Years' Brigade every year in the Mummer's Parade.
In his free time, Phil likes to read comic books. Some of his favorites include: Sweet Tooth, Saga, Invincible, and Chew. He also likes to spend time learning to play new instruments. He is partial to the guitar and ukulele. If he's not reading comics or playing guitar, you will probably find him drawing, further developing his illustration skills. Phil also hosts a radio show called Clangour on Drexel University's radio station, WKDU 91.7FM.
Phil can be reached by email at phil@creativecharacters.com.