Sean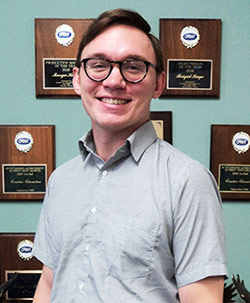 Sean's depth of knowledge and skill includes print, web, email, signage and a plethora of other electronic media. He is a creator at heart and enjoys the creative process in all areas of the arts from design to music. He has designed everything from children's toys to corporate advertisements. Sean is looking forward to reconnecting with the clients he used to work with.
Sean is also a published graphic artist. He did the graphics and typesetting for the book Looking Back...75yrs of Eagles History by Eli Kowalski. This book is for the passionate Eagles fan that bleeds Eagles green and was officially licensed by the Philadelphia Eagles.
Sean grew up in Montgomery County. He enjoys the outdoors and is always looking for his next creative project. Sean has a penchant for anything vintage. He collects vintage audio equipment and antique children's books. You may recall about 4 years ago when Sean moved to Georgia to pursue a career as a musician after his band was signed by a record label. After an outstanding run with hundreds of gigs, several U.S. Tours and a European Tour, Sean decided to return home to Pennsylvania to focus on starting a family. He currently lives in Port Richmond with his wife, dog Bebe and cat Palo.
Sean can be reached by phone at (215) 923-2679 or by email at proof@creativecharacters.com.