Jason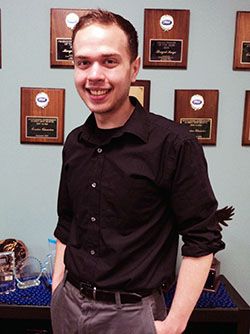 Jason is the Lead Customer Care Specialist. He's the person you'll probably talk with first when you call us. At Creative Characters, he does everything from answer client questions to printing and bindery to delivering completed jobs. Jason grew up in Montgomery County. He went to Clarion University where he studied Philosophy and Computer Science. Jason has significant experience with electronic media and likes working with computers and new technology. He says, "I picked Computer Science at Clarion University because it's like a giant riddle, just waiting to be solved."
He is also a "people person". During the summer, Jason volunteers at Junior Friends Conference Summer Camp in Newtown, PA. He works as a Camp Counselor for children 1st-8th grade to ensure their safety, and make sure they have a fun experience.
Jason lives in Roslyn, PA where he spends a lot of time with his family. He also enjoys reading many different types of books such as Atlas Shrugged, Lord of the Rings and Me Talk Pretty One Day.
Jason can be reached by email at jason@creativecharacters.com.